The best way to create an RSS feed!

by Dmitry Baranov


1. Introduction.

RSS means Really Simple Syndication.

RSS feed is an XML-based file. To give anyone access to the information contained in the feed, the feed must be placed on a Web-server. An RSS feed can contains various information beginning with your corporate news and ending with the daily menu of your neighbor's dog.

There are several variations of the RSS format, but we recommend to use RSS 2.0 as it is the most popular and has a lot of features. Any RSS feed contains items, any item must have a title, description and a hyperlink.

2. How to create an RSS channel.

Nowadays, you don't have to write RSS-code manually as there are many programs that can create RSS feeds in the WYSIWYG mode. To make use of such software, you don't have to know XML or the RSS specification.

Feed Editor: a tool for creating and publishing RSS feeds and podcasts. http://www.extralabs.net/feed-editor.htm

Feed Mix: RSS feed aggregator, editor and publisher. http://www.extralabs.com/feed-mix.htm

After you have created an RSS feed, you must upload it to a Web-server. The most convenient way is to use FTP. The products specified above already have a built-in FTP-client.

3. Promotion.

Before starting to promote your feed, check that the XML file is free of errors. You can use this free RSS-validator:

http://www.feedvalidator.org

After you have made sure that your RSS feed is correct, link to it from one of the pages of your website. Then, tell all specialized search engines and directories about your RSS channel. Of course, you can do it manually, but it is better to use special services and software:

http://www.feedsubmitter.com

http://www.submitrssfeed.com

Needless to say that submitting your RSS feed is very important, as the popularity of your RSS channel mostly depends on visitors coming from search engines. Besides, you can mention a link to your RSS feed on message boards, blogs, bulletin boards etc.

4. Conclusion.

Finally, if you want your RSS feed to become truly popular, then, besides a stream of new users, it needs a constant audience of readers that will take part in the development of the channel and leave comments. So, try to fill your RSS feeds with really useful and interesting (or even more better - unique) information. Don't make excessive use of advertisements. Make small or medium size messages and don't attach too heavy enclosures.

Create your channels accordingly to what your users want, don't forget about regular updates, and you will achieve much success.



About the Author: Dmitry Baranov, Marketing Director of ExtraLabs Software. www.extralabs.net - Create, Edit, Publish your RSS feed and Podcast.



EMAIL MARKETING IS DECLINING!

Discover its forecasted replacement...

This HOT new product will walk you through the new world of RSS marketing!

Order your copy today and get FREE Master RESELL RIGHTS!




NEW Marketing Revolution!

Send your advertising message to millions of people instantly!

Target your advertisement geographically! Advertising message on someone's screen, the second you send it!
Translate Page!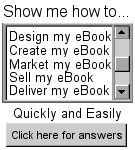 Newsletter
Sign-Up for The Business Junction Newsletter and Get "FREE" Newsletter Sign-Up Software, Specials Updates, Product Updates and MUCH MORE!