Co-Registration: Excellent Way for Cooperation!

by Dejan Bizinger




One of the most important goals for every ezine publisher is - to get new subscribers. However, there are thousands of email newsletters. It is not so easy to get new subscribers on a shoestring budget. Well, there is one great technique called co-registration that can bring you many subscribers - free or almost free.

Co-registration is practice that is used by savvy webmasters which enable that you make partnerships with quality email newsletters that focus on similar or complementary area like yours and place there subscription boxes on your "Thank You!" page. So when your subscribers complete the signup process for your email newsletter they will be re-directed to your "Thank You!" where you will thank them for becoming your valuable subscriber. Also, here you will offer them to easily subscribe to other quality email newsletters simply by checking out the checkboxes and entering their email address. Of course, we don't have to mention that ezine publishers that have their newsletters listed on your "Thank You!" page will do that for you, too - on their "Thank You!" page. It can be a win-win situation. You have to choose your partners wisely; email newsletters that offer quality content and web sites that have similar traffic.

Co-registration is not the same like swapping links. With swapping links you place banners on your web site or ads in your email newsletter. Those ads can be often ignored. Co-registration is more effective because your new subscribers are offered to become subscribers of other email newsletters immediately after they had subscribed to your email newsletter. This way it is more likely that they will decide to subscribe to several more email newsletters. Although, co-registration can be very effective not many email publishers use this technique for getting new subscribers. They are missing the great source of new subscribers.

Co-registration is usually free technique for getting new subscribers, but there are also some companies that charge certain amount of money for each new subscriber they sent you. Price is usually from $0.10 to $1 per subscriber.

We suggest you to do the most used, free co-registration with reputable companies. Of course, in order to make partnerships with those companies and email newsletters you have to have great email newsletter, as well.

You can find one of the most used co-registration service at http://www.coregcomplete.com. Using this service you will know exactly how much subscribers you have sent to your partners and how much subscribers you have received from your partners. So you can track your co-registration campaign. You can find your co-registration partners using their site http://www.coregpartnerfinder.com. Also, you can use specialized directories of companies interested in ad swaps like http://www.linkpartners.com or using a direct approach to webmasters that publish email newsletter with similar target audience like yours.




About the Author: Dejan Bizinger is a Contributing Editor for Infacta. Infacta is email messaging services company providing powerful, yet easy-to-use award-winning Group Mail, software for sending highly-personalized email messages and Group Metrics, software for email tracking. For more information visit: http://www.infacta.com




IMPROVE YOUR SALES WITH FILTER BUSTER!

Software that will check YOUR ads for the trigger words that set off spam filters!




eZineBlaster

STOP RISKING YOUR AD BUDGET! Cut it down to Zero!

Now you can Send Your Ads FREE Every Week To 188,000 Targeted eZine Readers
Translate Page!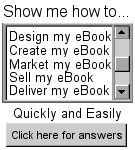 Newsletter
Sign-Up for The Business Junction Newsletter and Get "FREE" Newsletter Sign-Up Software, Specials Updates, Product Updates and MUCH MORE!