Important Advice For Domain Owners Hoping To Resell Their Domain Names!

by Edwin John




Have you ever wondered how successful domain speculators sell their domain names?

I recently interviewed some big names to learn their secrets. Due to the length of the discussion I have had to break up the entire conversation to several segments.

We begin our exclusive 6 part interview series with the following question.

"What is the most important advice you would give to new domain owners hoping to resell their domain names?"

Our panel includes:

Michael Collins (VP Marketing, Afternic.com), Zane Lawhorn (President, 1 Domains International, Inc), Michelle Miller (COO BuyDomains.com) Daniel Mejia (DomainsBot.com), Stewart Reynolds (EchoArts.com) Joe Devlin (ToGoDotCom.com) Robert S. Kieren (NameProdigy.com) DomainSpa.com Andrew Allemann (WebMasterExpert.com) William J. Piniarski (Owner of Webcs.com,Time2Sell.com) Michael Green (Marketing Guru & Founder, HowToCorp.com)

Joe Devlin: Do your homework. Know what makes a domain name valuable and have a plan before you register a domain. A domain name is in essence a business card to the world. Match the message a domain name can send with a business that needs to send that message and you have created value.

Andrew Allemann: Don't buy too many domains before you sell one or two. You may not be buying quality domains and may never sell them.

Stewart Reynolds: Have your domain names appraised to find out which names are the most valuable. Then have the most valuable domain names pointed to a page where prospective buyers can contact you. On that page post your asking price and request offers.

Michael Collins: I guess it would seem self-serving to say list them at Afternic, but letting people know your domains are for sale is the first step. There are many ways to promote your domain for sale. Listing them on leading domain name exchanges and putting a for-sale notice on a website hosted on your name are among the best. Set a reasonable price. The biggest mistake I see is overpricing. There are many people who think their two and three word generic domains with limited market size are worth tens of thousands of dollars. If you do not have successful experience selling names, consider a reputable appraisal service. You have to be careful with appraisals too. Many appraisals are inflated to entice people into marketing relationships.

Michelle Miller: Price the name realistically and use a trusted broker BuyDomains.com offers a 100% FREE listing service that allows anyone to post their domain for sale. Our site gets over 50 million hits a month, instantly giving individuals the opportunity to gain free exposure and sell their name.

Would you like to know more of what these experts say. Visit: http://www.OpenForSale.com




About the Author: Learn more at: http://www.OpenForSale.com/sell_domains.htm




Still No PDF Download Option For Your Customers Because Your Brain Just Shrivels Up When You Try To Buy/Use Adobe Acrobat software?

Now, You Can Point And Click Your Way To Instant, Hassle-Free PDF Publishing ... Using One of The 33 Free To Nearly Free Tools!

Order Now and Receive Master Resell Rights, Keep 100% of The Profits!
(This Offer May End At Any Time)




Create PDF Files From Any Printable Document in a Few Simple Clicks!

"Finally There's an EASY Way To Publish Stunning PDF Files,
Without Wasting a Lot of Time and Money"
Translate Page!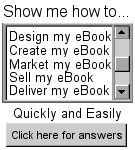 Newsletter
Sign-Up for The Business Junction Newsletter and Get "FREE" Newsletter Sign-Up Software, Specials Updates, Product Updates and MUCH MORE!