Using CSS with Tables!

by Stephen Cope




Tables are currently the most common method of laying out/structuring a web page. Although the use of tables for this purpose is considered, by many, to be a misuse, it is by far the easiest way of organizing web page content.

Most purists would say their use is now obsolete and you should switch to Cascading Style sheets for website /web page layout. However personally I still prefer tables for the basic outline structure in what is called a "minimal table layout".

In the minimal table approach the outline structure is created using a table, and positioning within the table is done using cascading style sheet <div> elements. This is the approach I currently use, and probably will continue to use over the next few years.

Not only can you use CSS for the element layout they can also be used to control the table itself, like table width or background colour. This way, just by making a change in the external CSS control file you can change the tables for all web pages, and with it the appearance/layout of the entire website.

One of the other advantages of continuing to use tables for page layout is that the pages are still easy to edit with most web page editors, whereas if you use CSS themselves for positioning then you will need a compatible editor.

Tables have been the mainstay of web page layout for many years and will continue to be over the next few years. However when combined with Cascading style sheets they can become very flexible and powerful, as well as simple to use.

To see how easy it is to do see Web Page Layout Using Tables and CSS




About the Author: Stephen cope is a freelance technical trainer and the webmaster of several websites. You can get more website making tips and articles to help you make your own website at http://www.build-your-website.co.uk.




Still No PDF Download Option For Your Customers Because Your Brain Just Shrivels Up When You Try To Buy/Use Adobe Acrobat software?

Now, You Can Point And Click Your Way To Instant, Hassle-Free PDF Publishing ... Using One of The 33 Free To Nearly Free Tools!

Order Now and Receive Master Resell Rights, Keep 100% of The Profits!
(This Offer May End At Any Time)




Create PDF Files From Any Printable Document in a Few Simple Clicks!

"Finally There's an EASY Way To Publish Stunning PDF Files,
Without Wasting a Lot of Time and Money"
Translate Page!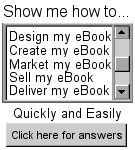 Newsletter
Sign-Up for The Business Junction Newsletter and Get "FREE" Newsletter Sign-Up Software, Specials Updates, Product Updates and MUCH MORE!