Finding A Credible Award Program!

by Donna Snyder




There are literally thousands of web award programs on the internet today. Some are credible, some are not. The Award Givers Community has a name for the one's that are not. They are called "Market-Me Awards or Give-Away Awards". The Market-Me and Give-A-Way award programs holds no credibility and often results in spam letters being sent to you, rather than gaining credibility to your website. Most Market-Me and Give-Away Award Programs will also reward sites that are tasteless or may contain adult content and material. The only thing you will have to do is paste their award graphic to your web or fill out a simple form. These types of Award Programs do not actually take the time to review applicants websites, they simply give you an award by right clicking your mouse and saving their graphic. I would highly recommend Not adding these give-away/market-me awards on your website, especially if you are a professional Web Designer, Web Firm or reputable business.

The credible Award Programs will display the following: A criteria that has to be met, an awards policy, a judging panel (that list their credentials, skills, certifications, etc.,) A code of ethics statement, a privacy statement, a winners list that can be easily found on the Award Program, a COPPA statement and requirements of who is eligible to apply and who is not. Credible Award Programs will have more then just a "submit site" button. There are only a handful of Award Programs in the world (such as the American Association Of Webmasters and The World Wide Web Awards), that has received an "Awards Rating" from an Awards Rating Service.

There are only about 10 Award Rating Services in the World, that actually review only Award Program sites. If you see a rating on an Award Program, you can be sure that the program has undergone a strict review to receive a rating. Most prestigious Award Programs will also display an "Affiliates & Memberships" page, displaying their award ratings, memberships to ethics organizations and sometimes award listings they belong to.




About the Author: Donna Snyder is the Founder of The American Association of Webmasters, World Wide Web Awards and The Celebrity Web Awards. Donna has been a website designer for more than eight years and owns three full service web related companies - including DDD Web Designs headquartered in Phoenix, Arizona, World Wide Web Designs and The American Association Of Webmasters.

World Wide Web Awards - http://www.worldwidewebawards.net




Still No PDF Download Option For Your Customers Because Your Brain Just Shrivels Up When You Try To Buy/Use Adobe Acrobat software?

Now, You Can Point And Click Your Way To Instant, Hassle-Free PDF Publishing ... Using One of The 33 Free To Nearly Free Tools!

Order Now and Receive Master Resell Rights, Keep 100% of The Profits!
(This Offer May End At Any Time)




Create PDF Files From Any Printable Document in a Few Simple Clicks!

"Finally There's an EASY Way To Publish Stunning PDF Files,
Without Wasting a Lot of Time and Money"
Translate Page!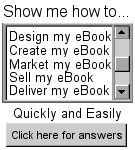 Newsletter
Sign-Up for The Business Junction Newsletter and Get "FREE" Newsletter Sign-Up Software, Specials Updates, Product Updates and MUCH MORE!