How to benefit by carrying out a responsible email marketing campaign!
by Thomas wall
Spam seems to be increasing by the minute and this has become a major subject of concern for email marketers. Responsible email marketing is the only way by which organizations can make sure they are safe. This is the reason why responsible email marketing is considered the future of email marketing. Discussed in this article are the different ways to carry out a responsible email campaign and how to benefit from it.

What is responsible email marketing?

A responsible email campaign involves carrying out email marketing by following certain guidelines, right from obtaining email lists to sending out mails. Permission based email marketing or opt-in email marketing can also be termed as responsible email marketing but not to that extent.

Permission based email marketing Vs Responsible email marketing

Permission based email marketing as the name suggests involves taking permission from the recipients of the e-mail before sending them any mails. But there are some basic points to be followed for a permission based email marketing campaign to be termed as responsible email marketing. The following points illustrate as to what permission based email marketing should involve to be considered as responsible email marketing.

Permission based email marketing should involve

1.) Obtaining email addresses by legitimate means like opt-ins
2.) Sending emails with a functional opt-out box
3.) Handing un-subscription requests at-least on a weekly basis
4.) Providing valid contact information and proper signatures with every mail
5.) Sending mails following a specific frequency at all times

Permission based email marketing should not involve

1.) Collecting email lists from email vendors or by using email software programs
2.) Sending mails with porn (without clearly stating so) or potentially damaging materials
3.) Sending emails with false headers that may create obstacles in tracking the mail
4.) Sending emails with false IP addresses
5.) Sending mails that do not have a reverse DNS lookup with the domain name
6.) Sending emails with misleading subject lines and mail content
7.) Sending mails from a computer that you do not have access to use

So only in-case the permission based or opt-in email marketing has these qualities can it be considered as responsible email marketing.

How to collect email lists to carry out responsible email marketing?

Getting email lists from email vendors is an easy thing to do, but is not recommended in the least. The best way to collect email addresses is by providing opt-in boxes on your websites, advertising in related ezines, websites, forums and blogs. Given below are nine points that you got to bear in mind while getting email lists using opt-in boxes.

Nine pointers to follow while getting email lists using opt-in method

1.) Never provide pre-checked opt-in boxes
2.) Never make your customers check the boxes by fake means
3.) Make the opt-in process as easy as possible
4.) Never ask for too many personal details
5.) Tell your customers what they will get in case they opt-in
6.) Provide incentives if required
7.) Provide a 'mail to others' or 'tell your friends' button
8.) Provide a privacy policy and stick to it
9.) Give information about un-subscription requests

What is single opt-in and double opt-in?

Single opt-in emails are those that do not require a re-confirmation. For instance, a customer clicks on a check box and he is automatically added to the subscription list. A double opt-in email on the other hand requires the recipient to reconfirm that he actually wants to receive the mails. Only after reconfirmation is the recipient added to the subscription lists. For instance, after the recipient clicks on a check box, he receives a reconfirmation mail. Only if he replies the mail or clicks a link in the mail will he be added to the subscription lists. The best way to carry out your responsible email campaign is to go for a double opt-in method.

Benefits of responsible email marketing

Responsible e-mail marketing has lots of benefits as compared to bulk email marketing. Few benefits are listed below

1.) As responsible email requires you to take prior permission before sending emails, the chances of your mail getting termed as spam becomes negligible
2.) Responsible emails will help you create long term relationships with your clients
3.) Your can portray a professional and ethical corporate image
4.) As the email is personalized and highly targeted the probability of the recipient actually opening and reading the mail becomes very high
5.) Response rates will generally be higher
6.) You can generate customer trust that would help in building long term relationships

Although responsible email marketing may seem a difficult process it can benefit you in many more ways than as mentioned above. Carrying out email marketing in this manner will also make sure that you abide by the Can-Spam guidelines passed by the Federal government. There are many good sites that offer in-depth information on this subject. For instance http://www.bizbrim.com offers information on all aspects of responsible email marketing. To get information about the Can-Spam Act you can visit http://www.spamlaws.com/federal/108s877.html.
About the Author: http://www.buytemplates.net is a leading web templates provider and has hundreds html templates in various categories that come at surprisingly affordable prices. Apart from offering web templates, they also offer allied services like template customization, content insertion, SEO and web hosting service.
Translate Page!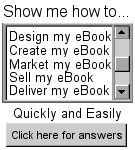 Newsletter
Sign-Up for The Business Junction Newsletter and Get "FREE" Newsletter Sign-Up Software, Specials Updates, Product Updates and MUCH MORE!